Chicken, chicken, chicken.... what to do with it? It's quite versatile so the answer to the question is "a lot." You can coat it, bread it, baste it... the possibilities are endless. With just a little imagination and a few fridge staples, I came up with this tasty concoction for Cheddar Chicken.
1 cup milk
6 oz mild cheddar cheese, shredded
1 cup seasoned bread crumbs
1 large clove garlic, minced
1 Tablespoon parsley
2 large chicken breasts, cut into 3 strips each
2 Tablespoons of butter, melted
Preheat the oven to 400 degrees.
Place the milk, cheese and breadcrumbs into three bowls or trays. Add the minced garlic, parsley and salt and pepper to the bread crumb tray and mix.
Dip the chicken piece into the milk, then press the cheese into it then the breadcrumbs. Place the strip into a lightly greased baking dish or parchment covered cookie sheet. Repeat the steps with the remaining chicken.
Cover the chicken with foil and bake for 20 minutes. Uncover and baste the chicken pieces with the melted butter then bake uncovered for an additional 10 minutes until done. If you use smaller chicken breasts adjust the cooking time accordingly. I always use a meat thermometer to check my food.
Moist is the key word here. Hubby loved the cheese and how flavorful the chicken turned out. And even the leftovers heated up well the next day. That's they key.... sometimes reheated chicken dries out. This one didn't. This recipe will go into the rotation for sure!
For nutrition information, click the Magic button below
This recipe is featured on
Domesblissity's
Thriving on Thursdays
post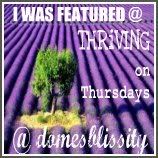 Featured on the Law Student's Cookbook
June Pantry Party