Growing up, I HATED brussel sprouts. The shape of them, the smell, the taste…. EEEWWWW!!! My mom wasn't a fan either so it's not like we HAD to eat them for dinner. My co-worker cooks them at work frequently and I usually leave the room. Just what is a brussel sprout? Some green thing I said I would never touch, ever!
Then I met SheRie. And it all changed.
SheRie does the cooking at our church and she has some delicious recipes she has shared with us for our Wednesday night dinners, Sunday breakfasts and other special events. Well, one day, she decided to have a cooking class and I signed up right away. I really wanted to learn some of her recipes and I was so excited. The night comes and we gather at church and the menu for the class was Salmon, couscous, brussel sprouts and pumpkin cake. No…. wait… did she just say brussel sprouts??? Oh boy…. This was going to get interesting.
She cooked them up and I figured I'd give it a taste. After all, will one of those green things kill me? No. So I ate one……. And I could not believe my taste buds. They were AWESOME!!! Wow, after so many years (and I won't tell you how many), I became a brussel sprout convert.
She gave us all the recipe and I decided to make them for hubby. He was very skeptical about this and had me fix him an ear of corn the same night… just in case. What was his opinion? You'll have to keep reading to find out.
Ingredients
1 package fresh brussel sprouts
1 Tablespoon minced garlic
1/2 cup shallots, cut into rings
4 slices pancetta, cubed or 5 slices bacon, fat cut off, cooked and chopped
1/2 lb mushrooms, rinsed and stems chopped off
Directions
Blanch the fresh sprouts for 3 minutes in boiling water, then plunge them into an ice bath to stop the cooking process. This helps the sprouts retain their beautiful green color.
Saute the shallots, garlic and pancetta (or bacon) in olive oil and cooking wine until the shallots are translucent.
Remove the brussel sprouts from the ice bath, rinse them then slice them in half lengthwise.
Arrange the sprouts and the mushrooms in a large baking dish. Pour the shallot mix over the sprouts and stir to coat.
Bake for 30-40 minutes. The lower end of the baking time gives the sprouts more crunch. It's up to you how you like your texture
So how did hubby like them? He thought they were delicious!!! I had told him that this would be amazing and would change his opinion on brussel sprouts forever. And it did. The other day, he text me while I was at work and inquired if we had leftover sprouts. He then said he never thought he would ever ask THAT question. I can't wait to make this again.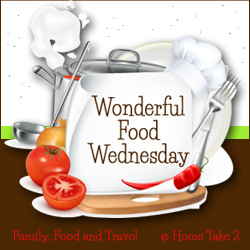 Featured on Diana Rambles

Pin Me Linky Party #39

on June 28, 2013
Far Out Brussel Sprout Bbq apron (Google Affiliate Ad)
Brussels sprouts - iPhone 5 Case (Google Affiliate Ad)